World Class & Unique Items Right Here In Our State
Did you know Florida is the home of many world class BDSM equipment manufacturers and distributors? Did you you know we have world class dungeons and clubs? Did you know that many vendors extend a discount to BDSM club members?
Our Florida BDSM community vendors provide a wide range of gear and services. You will find almost everything you are familiar with and perhaps a few new things as well. Below are links to Florida BDSM vendors:
---
BDSM Products
---

At K & K Leather LLC we are dedicated to providing fine quality leather fetish attire and leather bondage accessories at prices that people can actually afford. We offer fully boned, lambskin leather corsets at prices starting as low as $49.99 and with sizes ranging from Small (28-20-32) all the way up to size 4X (52-44-56). In addition to corsets, skirts and other fetish clothing, we also have leather bondage accessories such as armbinders, cuffs, straightjackets and leather sleepsacks. If you don't see what you are looking for in our online catalog, please contact us and we will talk to our suppliers about custom items, sizes or colors.

Korg and Kiara of K & K Leather LLC
---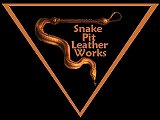 Established in the spring of 2001, Snake Pit Leather Works has become known worldwide for its high quality floggers, cats and whips.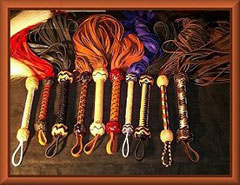 A great flogger doesn't just happen.That's why discriminating buyers come to Snake Pit Leather Works to meet their distinctive needs. Please browse our website and see for yourself. When you find the flogger or other toy you are interested in, simply send us an email and we will take you through the process of creating the custom piece of your dreams.
---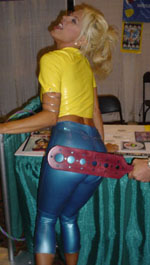 Paddlemaker When it comes to paddles, Sir Steve's collection displays a very wide variety of materials and designs that should suit your wildest desires.
With a fully functional online cart, good product photography and descriptions, a visit to his site will most likely find you adding a new paddle to your collection.
Sir Steve also specializes in custom, unique and exotic paddles, canes, gear boxes and benches for the BDSM lifestyle.
---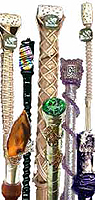 Canes 4 Pain
has wickedly sweet and painful canes
adorned with
beautiful jewels and sculpture. Whydancer's descriptions of how they feel and act are extremely helpful and accurate.
Besides making some of the most beautiful canes in the world, she also crafts extreme implements of torture called Multi-canes. The canes have from 15 - 30 shafts and are so nasty it will make any masochist glow with joy and scream with pain. She even has a multi-cane with stinging wire wrapped tips called The Extreme Red Line Birch Rod. You will want a collection of these artful canes.
---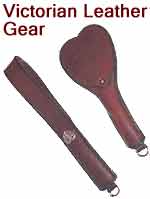 The London Tanners' high quality collection of authentic reproduction Victorian hand stitched leather goods are crafted using old world master's craftsmanship standards based on historical research of documents and drawings. These discipline devices are the result of exquisite quality workmanship. Ian's Spanking Leather Paddles, Straps, Strops, Belts, Tawses, Whips and Martinets are for the domestic disciplinarians with discerning tastes.
---
BDSM Services
---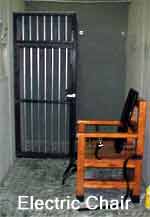 Master's Quest is a nice sized world class dungeon and BDSM emporium. They make hand crafted leather goods, whips, wooden paddles, rubber and plastic BDSM gear. If you buy one of their items you can immediately take it and your submissive into their the dungeon and test it out on one of
many play stations. They have a large open floor dungeon
with 2 story high ceilings that whip enthusiasts will appreciate. The main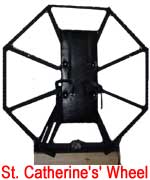 room accommodates more than
8 play stations. The special features include glassed in smoking area, several lounge areas, a sybian, waxing station, St. Catherine's' Wheel, Electric Chair, several St. Andrews' Crosses, Spanking Benches and 2 Full Suspension Davits. Off nights are available for private bookings and photo sessions as well.


---
Attention Florida based BDSM vendors and service providers. To have your website listed here, please email our webmaster at soulfire@comcast.net.
Page Credits: Editorial, reviews and descriptions were written by NewImprovedDom@aol.com and are solely his opinion not the opinion of the Sarasota Society.
---
"The society that plays together stays together."
Event Coordinator: events
© Copyright 2006, Sarasota Society - All Rights Reserved
Website by Soulfire Graphic Design