You will find a small collection of fiction and nonfiction books listed below. The titles and author's names are linked to the store and database at Amazon.com should you wish to learn more or make a purchase from them.
Nonfiction
---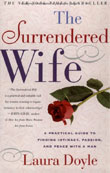 The Surrendered Wife : A Practical Guide to Finding Intimacy, Passion, and Peace with Your Man
by Laura Doyle
Surrendering is coming to terms with reality--that YOU are the only one YOU can change. Doyle gives practical tips and tools for replacing critical, controlling, or nagging behaviors with respect, trust and gratitude. A surrendered wife bravely and courageously commits to making a loving, nurturing marriage the most important goal of all -- and she will receive that and so much more. This book is easy to read, practical, and best of all it WORKS!
---

Miss Abernathy's Concise Slave Training Manual
by Christina Abernathy
Down-to-earth information, elegantly written, about how consensual owner-slave relationships really work. Realistic, detailed descriptions of slave duties, symbols, sexual exchange, rewards, punishments, contracts and more.
---

Training With Miss Abernathy : A Workbook for Erotic Slaves and Their Owners
by Christina Abernathy
Training with Miss Abernathy is the follow up to Christine Abernathy's excellent book on BDSM training "Miss Abernathy's Concise Slave Training Manual". As the book states, her first book is the theory, while the second book is the practice. The manual contains fifty lessons designed to help the reader explore various elements of BDSM service.
---

Screw the Roses, Send Me the Thorns : The Romance and Sexual Sorcery of Sadomasochism
by Philip Miller, Molly Devon, William A. Granzig
Screw the Roses enthusiastically covers all the basics and even some of the not-so-basics--bondage, negotiation, sex, endorphins, dominance and submission, toys, safety, S/M community, and beyond. It's written primarily from the point of view of male dominant/female submissive interactions, but it's easily translatable into valuable advice for any relationship configuration.
---

SM 101 : A Realistic Introduction
by Jay Wiseman
SM 101 surveys the entire spectrum of consensual sadomasochistic practices from from bondage, to spanking, to erotic role-playing, and more. Now in an expanded second edition, SM 101 includes a new chapter on starting and running sadomasochistic organizations and events for consenting adults.
---

The Loving Dominant
by John Warren
The Loving Dominant is one of the basics. It should be--and often is--required reading before a new partner is willing to consider playing. It covers not only the how-to's, the who's, the what's and the when's, but the why's, as well as providing some great inspirational examples of scenes.
---

The Ethical Slut : A Guide to Infinite Sexual Possibilities
by Dossie Easton, Catherine A. Liszt
Warm, informative details about how to get your needs met, manage your jealousy, make agreements that work for all concerned, talk to your friends and relatives, and build a life full of all the sex and love you want. This book is a great guide for all who are considering changing their twosome to a threesome or other add-on to their primary sex relationship.
---

The Topping Book : Or, Getting Good at Being Bad
by Dossie Easton, Catherine A. Liszt
This is book was a very fun and informative read. It talks about the rights and responsibilities of the Top and what it is like to be a top. It tells you that Tops and bottoms are equals. Dossie and Catherine are always very good about including all genders, preferences, and relationships.
---

The Bottoming Book: How to Get Terrible Things Done to You by Wonderful People
by Dossie Easton, Catherine A. Liszt
Catherine & Dossie give us another great book. It is short and concise and very helpful. The sections on the psychological effects are particularly well explained. The authors repeatedly validate the experience of the person-as-bottom, whether that person identifies solely as a bottom or as a top who desires to experience bottoming, or as the in-betweener who likes it all.
---

Different Loving : The World of Sexual Dominance and Submission
by Gloria G. Brame, Jon Jacobs, Will Brame
They begin by asking "What is normal ?" and note that if "normal" means reproductive relevance as in the Victorian standard, then few are normal. What is clear is that what is painful for some is pleasurable for others, what is unacceptable for some is delightful for others, what is frightening for some is a natural high for others.
---

Bound to Be Free : The Sm Experience
by Charles Moser, J. J. Madeson
Of the vast array of human sexual behaviors and practices, sadomasochism (SM) is probably the least understood and, thus, the most feared among the general public. Moser and Madeson here provide perhaps the first intelligent, fully informed, fact-based discussion of what SM is, what it means to its practitioners, how it is practiced, and the structure of its subculture in contemporary American society.
---
Fiction
---

Story of O
by Pauline Reage, Jean Paulhan (Preface), Sabine D'Estree (Translator)
Considered a classic, this work is worthy to stand beside the best writings of the Marquis de Sade. This is an ironic and mystical tale of unfreedom that transcends the pornographic and even the erotic. The story is about the love of a beautiful Parisian fashion photographer for Rene. As part of that intense love, she experiences training, bondage, severe sexual and psychological tests.
---

Return to the Chateau : Preceded By, a Girl in Love
by Pauline Reage, Sabine D' Estree
The sequel to one of the most scandalous and sensational of modern erotic novels. The continued adventures of "O" in a controversial second book. This story's ending is subject to much debate.
---

Sleeping Beauty Trilogy
by A. N. Roquelaure
A boxed set of erotica by the best-selling author. Rice's enormously successful "Beauty" books are based very loosely on the Sleeping Beauty tale, and explore just about every sexually explicit fantasy imaginable. "Articulate, baroque, and fashionably pornographic".--
---

SM Classics
by Susan Wright (Editor), Susan Edited by Wright
A collection of the most important SM nonfiction of the past two decades, edited by a prominent "scene" personality with extensive editorial and writing experience. Features work by a veritable who's who of contemporary SM, including Larry Townsend, John Warren, John Preston, Laura Antoniou, Pat Califia, Joseph W. Bean Fakir Musafar, and many others.
---
Page Credits: Book list submitted by Victoria Chained in 2000. Currently known as Po8t@aol.com.
---
"The society that plays together stays together."
Event Coordinator: events
© Copyright 2006 - 2008, Sarasota Society - All Rights Reserved
Website by Soulfire Graphic Design