You will find a small collection of fiction and nonfiction books listed below. The titles and author's names are linked to the store and database at Amazon.com should you wish to learn more or make a purchase from them.
Nonfiction
---

The Leatherman's Handbook: Silver Jubilee Edition
by Larry Townsend, Jack Fritscher
A good introduction to the gay male SM world of the early 1970s revised briefly for the 2000 edition. It gives a good basic overview of the history of "Old Guard" as well as insights into how different from and similar to gay SM is from het SM.
---

The Leatherman's Handbook: The Original
by Larry Townsend
Anyone wanting to learn the "Old Guard" ways will find many of its roots here.
---

Exhibitionism for the Shy: Show Off, Dress Up and Talk Hot
by Carol Queen
Carol Queen is absolutely the best. She makes sense out of feelings most people share but are afraid to admit. You should read this little book, especially if you have any shy tendencies. We would all live fuller lives if we could follow half of her truths.
---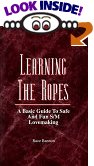 Learning the Ropes: A Basic Guide to Safe and Fun S/m Lovemaking
by Race Bannon
Race Bannon provides some much-appreciated accurate information in this honest and straightforward basic guide to S/M. He explodes prevalent myths about S/M and replaces them with a playground of erotic fantasy and an emphasis on consensuality. Possibly the most important trait of this book, though, is that it's delightfully devoid of the "This is the One True Way" trap evident in too many sexuality manuals.
Delightful examples of questions and issues that commonly come up during negotiation, useful for both the novice just learning to say yes, and the more experienced hand who has met a new partner. The chapter on "S/M Technique" includes good basic safety and sensation information. A recommended reading list, and a glossary. --Cheryl Trooskin
---

Sensuous Magic 2 Ed: A Guide to S/M for Adventurous Couples
by Patrick Califia-Rice
Need help with your riding-crop technique? Wonder how to wrap your husband like a mummy? Sensuous Magic has the answers. Writer, therapist, and sex radical Patrick Califia-Rice has updated his classic introduction to S/M and power play to embrace couples of all persuasions and at every stage of experience. Although not a comprehensive technical guide (you will need a book on rope bondage, for instance, if you want to learn appropriate knots and techniques), Califia-Rice's text offers insightful warnings, advice, and commentary, the kind of guidance you might expect from a seasoned mentor. It is especially well-suited to daring beginners, who can learn the basics on safety and communication, while being titillated by more advanced topics like whip selection and master/slave contracts. --Regina Marler
---

Sensuous Magic: A Guide for Adventurous Couples
by Pat Califia
Sensuous Magic is clear, succinct and engaging even for the reader for whom S/M isn't the sexual behavior of choice. Califia's prose is soothing, informative and non-judgmental she both instructs her reader and explores the territory for them. When she is writing about the dynamics of sex and the technical aspects of it, Califia is the Dr. Ruth of the alternative sexuality set.
---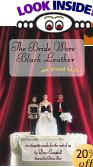 The Bride Wore Black Leather...And He Looked Fabulous!: An Etiquette Guide for the Rest of Us
by Drew Campbell
This is an excellent, helpful guide to etiquette for folks who didn't think Miss Manners would work for them - although, as Drew slyly implies, she could! The book offers common-sense advice told humorously and well for folks who move regularly in non-traditional roles and relationship structures.
---

The Mistress Manual: The Good Girl's Guide to Female Dominance
by Lorelei
It's everything the author says and more. One of the few books that stresses that this should be done for the couple's MUTUAL pleasure. I also think it may be the only book out there that comes from a monogamous loving relationship viewpoint - not that is the only way to go in this lifestyle but very rarely talked about. It's fun, HUMAN, and very very helpful.
---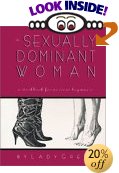 The Sexually Dominant Woman: A Workbook for Nervous Beginners
by Lady Green
This was a wonderful book for the curious beginner. It was written in a very clear and open style, defining terms as it went along. The author was careful to explain drawbacks as well as benefits of different types of dominant/submissive play, and gave many safety tips as she went along. Many suggestions for further reading were also given. The book is best for the beginner to BDSM, and works well for both dominant and submissive as a reference. For more experienced players, the safety reminders would be most useful.
---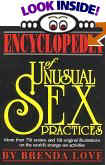 Encyclopedia of Unusual Sex Practices
by Brenda Love, Paul Mavrides
What other people do for their pleasure is often shocking--and fascinating. That's why Brenda Love's authoritative and entertaining book is so mesmerizing. From adultery and birth control to computer sex and pubic hair sculpture, Love probes more than 700 topics, including both norms and extremes. 150 line drawings.

---
Fiction
---

Servants of the Cane
by Lisette Ashton
Levi L Cane is notorious for writing some of the world's most depraved stories. His tales of bondage, punishment and sexual torment are always graphic and he has been acclaimed for his attention to explicit detail. After reading only one novel, Rose is convinced that she doesn't want to know anything more about the author, or discover the secret of how he develops his stories. But fate and circumstances work against Rose, leaving her trapped and at the mercy of the novelist. Despite her reluctance, she is soon on the verge of learning all about his meticulous research and, with the help of the Servants of the Cane, it is a lesson she will never forget.
---

A Desirable Property
by Nicole Dere
When their plane is hijacked and forced to land in the African state of Leontondo, lovely Jane Freeman and petite redhead, Moira Kinsella, soon learn that their chief hope of survival lays in total submission to the will of their captors, in particular the beautiful, sadistic Krista, whose passion for her victims is matched only by her cruelty. Jane and Moira, together with young American Nicki Ginsburg and air-stewardess Anita Simpson, are also compelled to serve as amusement for General Koloba, Leontondo`s ruthless dictator, and his henchmen. Reunited with their husbands, Jane and Moira remain confined, during which time the quartet become involved in an exotically intricate combined relationship. Jack, Moira`s domineering and manipulative partner, is involved in secret negotiations, so that instead of the freedom they hoped for, the other three find themselves sold as slaves to the infamous Lord Staith, prisoners on his tropical island of Kendu, from which there will be no reprieve.
---
The Market Place Series
A diverse world of pansexual sadomasochistic delights. These are "must read" classics in our culture! Recommended highly by this webmaster. - NID



The Marketplace
by Sara Adamson
Ms. Adamson's friendly, conversational writing style perfectly couches what to some will be shocking material.



The Slave (The Marketplace Series, 2)
by Laura Antoniou
The second volume in The Marketplace trilogy. The Slave covers the experience of one exceptionally talented submissive who longs to join the ranks of those who have proven themselves worthy of entry into the Marketplace. But the price, while delicious, is staggeringly high.


The Trainer (The Marketplace Series, 3)
by Laura Antoniou
The long-awaited conclusion of Adamson's stunning Marketplace Trilogy! Now these mentors divulge their own secrets, and the desires that led them to become the ultimate figures of authority.



The Academy: Tales of the Marketplace (The Marketplace Series, 4)
by Laura Antoniou
If you've read the first three books in this series, you'll be well equipped you jump into the Academy and learn along side the trainers and spotters. Many questions from the previous novels are answered in intelligent and arousing ways.
---
Page Credits: This book list was created by the efforts of our 2001 hostess Rebecca.
---
"The society that plays together stays together."
Event Coordinator: events
© Copyright 2006 - 2008, Sarasota Society - All Rights Reserved
Website by Soulfire Graphic Design